Be a member
"My membership in the Clubhouse has made me more comfortable dealing with my mental illness and finding people who are there to support me."
-Julie (California Clubhouse Member)
Membership is voluntary, free and without time limits.
As a clubhouse member, you'll have the opportunity to work side by side with staff and members each day to run the clubhouse, learning job skills in the process. It is a place to meet friends, take part in social activities and belong to a supportive community.
California Clubhouse follows the Clubhouse International Standards. The principles expressed in these Standards are at the heart of the Clubhouse community's success in helping people with mental illness to stay out of hospitals while achieving social, financial, educational and vocational goals.
The Standards also serve as a "bill of rights" for members and a code of ethics for staff, board and administrators.
Join Our Staff Team
We want enough staff to fully engage with the membership, yet small enough in number that all the work needed is impossible without member involvement.
Open Positions
Current Job Openings (3/21/2018)
If you are interested in applying for an open position, please send your resume and cover letter to searchescaclubhouse@gmail.com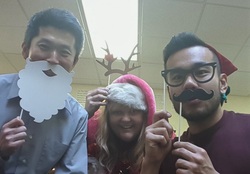 (L to R) Jiro Arase (Staff Generalist), Erica Horn (Executive Director), John Richmond Sy (Program Manager)
For those interested in becoming California Clubhouse members, we invite you to come by for a tour.
Tour Times:  Monday-Friday 10 am -11 am or 2:30 pm - 4 pm
If you are a young adult and would like a tour led by one of our young adult members, please phone us at  (650) 539-3345
or email    info@californiaclubhouse.org
Call us Today!
After you have completed a tour, and turned in your application, orientation is the next step. A member and staff team will meet with you and go over all of the opportunities that are available to you as a member!
ORIENTATION TIMES: appointment only
Tuesday 3pm -4pm
Wednesday 10 am-11am or 3pm-4pm
Thursdays 10 am -11 am