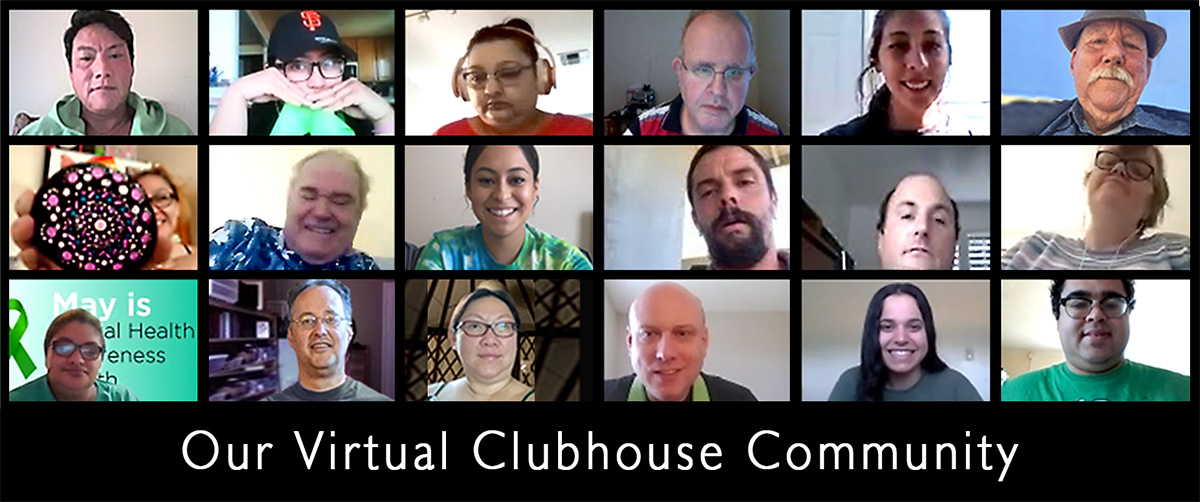 HELP CALIFORNIA CLUBHOUSE MAKE A DIFFERENCE!
We have hundreds of stories and examples of the ways that California Clubhouse makes a difference. But you know it already: what we are doing matters.
"Clubhouse became a lifesaver. It's so simple: having a place to go. But also having activities, tasks and community brings so much improvement."
—Mary, family member
It matters to our members and we hope it matters to you too. We need your help because  donors fund over 40% of our programming. We benefit from strong financial support from San Mateo County but your support is what fills that gap.
Please consider making a generous end of year donation to California Clubhouse. Thank you for your much-needed support and we hope to be able to connect in person in 2021! 
2020 has been an extraordinary year.  California Clubhouse has evolved and changed with it. We have successfully gone virtual and continue to make a difference for those living with
mental illness. You too can make a difference. Here are some of the things we've been doing.
Painted Rocks & Sunflowers: Clubhouse staff and members gathered virtually to stretch their creative muscle. During online art socials, we painted rocks and planted sunflowers.
"I love the socials. I'm amazed at the Clubhouse. It is awesome. It keeps me from sleeping all day. I was just existing but now I want to stay awake!"  
— Audrey, member.
Lifting Up Leaders: Clubhouse invites members to share their skills and knowledge, to lead discussions, to take initiative, and gain a sense of confidence and capability.
"I've had self-esteem issues all my life. Being accepted unconditionally has been a light to me. Being engaged at Clubhouse made me feel like I matter despite my disability."
— Nelly, member and Spanish tutor to other members.
Structuring a New Life: The Clubhouse model creates a community that thrives on structure and teamwork. Daily Zoom meetings and tasks regularly give members important things to do.
"Without Clubhouse, my mother would have gone into a rathole. Now, she's engaged from nine to four. I set up Zoom, and she engages. This program creates a real-world environment, preparing members to share in tasks and try new things."
— Darlene, family member.
Supported Employment & Education: The pursuit of education and employment goals is a good measure of a member's wellness.
"The first time I went to the Clubhouse, they helped me find a job. I'm technically challenged, and Clubhouse helped me figure out how to do everything online. Now, I can do a lot on my own."
— Rick, member.
Caring & Connecting Beyond Our Walls: Since the onset of the pandemic, we've reached out virtually to members and assisted with phones, laptops, on-line programs, check-in calls, care packages and regular emails, to name a few of the ways we stay in touch.
"It brightens up my day when I receive care packages or phone calls from Clubhouse. I also enjoy calling members to let them know they will be receiving a care package. It's a rewarding experience to call and cheer someone up…"
— Alan, lead member in outreach.