Mission
California Clubhouse strives to give those whose lives have been disrupted by mental illness an opportunity to experience meaningful work and relationships as they reintegrate into the broader community.
The Clubhouse approach is effective because it develops and sustains Clubhouses that remain:
How the Clubhouse Works
1. Participants – called members
They share ownership and responsibility for the success of the organization.
2. Members Work and Socialize
In a unique partnership with a small staff they build on strengths instead of focusing on illness. There is not enough staff to do it all.  The work of members is genuinely needed.
3. Recovery through Work and Work-Mediated Relationships
Work and work-mediated relationships are proven to be restorative as they provide a foundation for growth, self respect, and individual achievement.
4. Clubhouse Provides Paid Employment
We provide paid employment opportunities in local community businesses for members who want to work, helping members become successful employees.
5. Extension of Services and Programs
Clubhouses provide a needed extension of existing services and programs.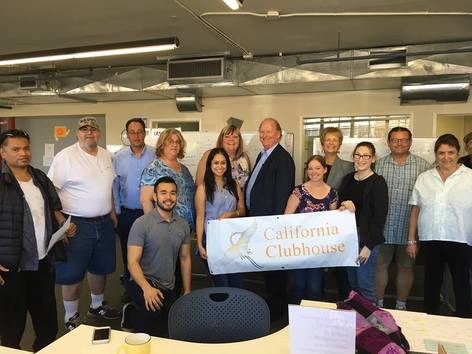 Benefits to the Community
Research confirms the value to Clubhouse members, their families, and our communities.
Higher Employment
Reduced Hospitalizations
Reduced Incarcerations
Improved Well-Being
More Information and Research