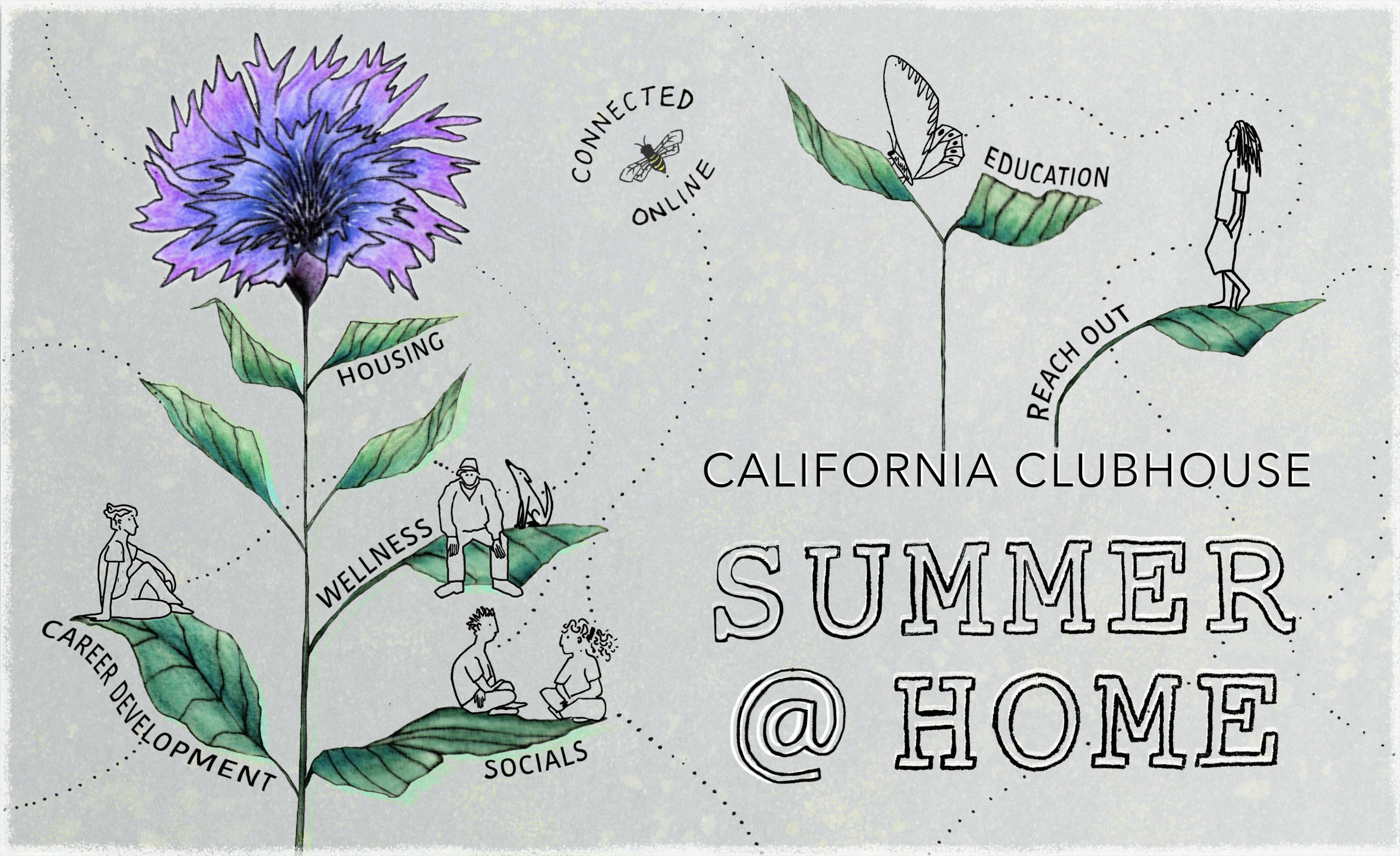 Summer@Home Fund-A-Need Campaign
First-time donors make double the impact!!
Sally & Mike Mayer are matching all donations for first-time California Clubhouse supporters now up to $15,000!  If you've never donated, today is the day to start! Thank you Sally & Mike!

California Clubhouse is going strong this summer keeping members connected from home—and continuing to push the boundaries in building a community of hope, dignity and recovery.  We invite you to be a part of our efforts by supporting our Summer@Home Fund-a-Need Campaign. Every donation made, whether it's $50, $100, $250, $500 or $5,000, represents a continuation and extension of the life-changing services that California Clubhouse offers its members, both now and in the future.
Supported Employment
$1000 helps remove barriers to employment for a member.
Getting work or getting back to work is a key measure of health for many. Your gift will support California Clubhouse's career development program. California Clubhouse members can get help getting ready to find a job, from resume support to mock interviews, as well as financial support to get credentials and resources that help get them hired. It can also mean that we can create programs that offer inspiration and support to our job seekers.
Connections through Technology
$500 can cover a whole year of cellphone and data for a member.
Your gift will ensure that the California Clubhouse and its members have the technology tools, including software, hardware and services, to make sure that connection can be built and strengthened.  More members will be able to be involved in the day-to-day running of the program, and we'll be able to invest in the equipment we need to continue to LiveStream our program both now and in the future. Further, we'll be able to help members get the cellular phones they need to make sure they can stay in touch with their medical providers, support systems, and of course, the California Clubhouse itself.
Supported Education
$250 helps a member return to school with books, supplies, and lab fees covered.
Everyone deserves to be a lifelong learner—and education adds richness and dignity to life.  Your gift will help us support our aspiring students with the tools they need to succeed in school and continue to learn new skills. That might mean school supplies, transportation, programs or staffing to support students. Learning is FUNdamental.
Reach Out
$100 buys and delivers four care packages to members.
The California Clubhouse encourages new skills and lifelong habits, and we want to support our members even when they are at home. Your gift will help us provide resources and support for members so they can extend their fitness efforts (think yoga mats and resistance bands, for example) and wellness (think water bottles, fans, cooling pads, etc.) even at home. It could be used to support hobbies that range from gardening, biking or more.  Especially in these months, we also want to offer  additional support (protein shakes, protein bars, hygiene items, cleaning supplies, etc.) and face masks to those who need it.  California Clubhouse also hopes to create programs tailored to specific groups, whether it's a wellness group for older adults, a gathering for young adults, or an opportunity to work on a crafting product.
New Member Welcome
$50 helps us welcome new members!
We want to make new members feel at home and welcome at California Clubhouse—and get the word out about what a great organization we are. Your gift will allow us to develop a Clubhouse-branded welcome package that might include stickers, magnets, water bottles, or Popsockets that give members a sense of community and share our spirit (and message) with the broader community. This same fund might be used to create new signage and banners.
We are doing a lot at California Clubhouse and we are planning to do more. Your gift of any amount will make a difference. Click on the button below to make your donation today.