Virtual Clubhouse Information
Support for members ages 18+
During these unprecedented times, our California Clubhouse facility is closed but programming remains open and available to all our members. Below you will see descriptions of programming we are currently hosting via Zoom. If you are interested in membership, please scroll down for more information.
10:30 am Morning Meeting
12:30 pm Wellness Walks
1:30 pm (Tuesday, Wednesday, and Thursday) Lunch and Learn focus on Wellness Works, Career Development and Young Adult Program
5:00 pm - 7:00 pm on Monday to Friday open to the public via Zoom - family, friends, peers, and volunteers!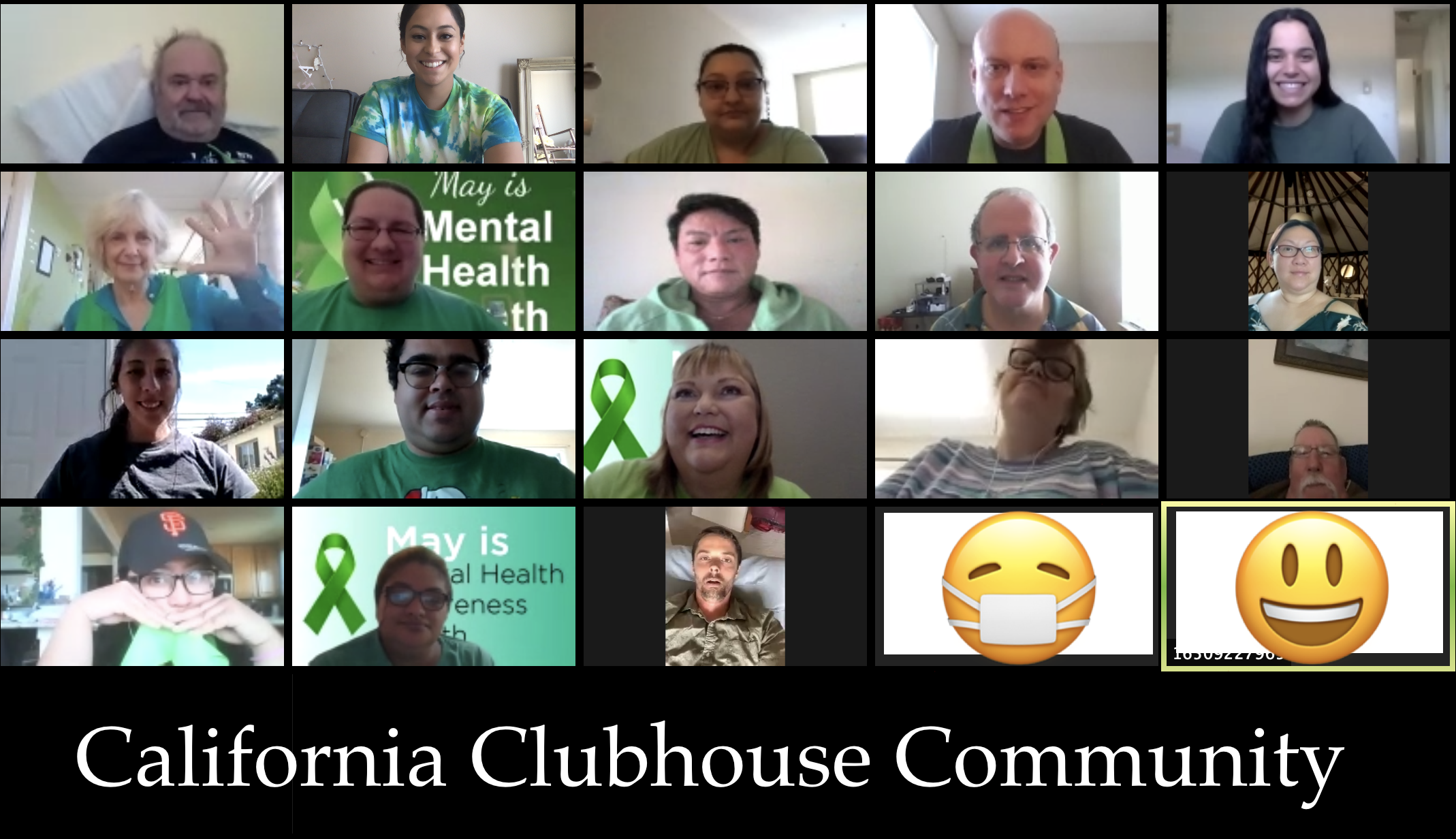 Through the Wellness Works program, we support and encourage an active lifestyle. We lead daily wellness walks, guided stretches, Sit and Be Fit all through Zoom. The Wellness Works program also provides a Weekly Wednesday Wellness Newsletter. It goes out every Wednesday and includes easy and healthy recipes to try at home, member poems, and Lunch and Learn Recaps.
The Young Adult Program (YAP) is tailored to engage members between the ages of 18-35. Young Adult Program meets twice a week and work on various projects such as YAP RAP Newsletter and Lunch and Learn. The YAP group focuses on supporting our young adults into integrating to our greater community by hosting socials, Zoom meet ups, and Group Chats.
Career Development focuses on supporting members through employment and education. The support varies from member to member. We currently offer Job Club every Wednesday afternoon. Career Development offers members the opportunity for peer support as well as a platform to obtain training in various skills excel, word, outlook email. 
During the COVID 19 pandemic, we support members in filing for unemployment. Career Development works side-by -side with our members to make the filing process as easy and stress-free as possible.
We currently host evening chats Monday - Friday 5:00 pm - 7:00 pm. The community has opened our Evening Chats to our greater community. Our evening chats offer a safe space for members, peers, family members, etc to connect.
Membership to California Clubhouse is not necessary. 
Interested in Membership? Becoming a member is as easy as 1,2,3. 
Steps to Membership:
Fill out application here 

Book Virtual Orientation with Welcome Committee:

Current days & times: Tuesday 3pm, Thursday 9am
California Clubhouse Standards - we are all part of a bigger community!