History
The Highlight Reel
Bringing Clubhouse to San Mateo County
California Clubhouse Opens For Membership Enrollment!
Wednesday, May 27 10:00 – 2:00pm
Those interested in becoming California Clubhouse members come join us at 10am for:
an introduction to daily activities
an opportunity to participate in a snapshot version of the Work-Ordered Day
and lunch will be served at 12 noon
We will be accepting applications as part of the day. Applications are available online too:
After Wednesday, California Clubhouse will be open Monday-Friday, 10:00am- 2:00pm. Tours will be available Monday, Wednesday, and Fridays. After a tour, Orientations can be scheduled: Tuesdays 11-12pm and Wednesdays 1-2pm.
California Clubhouse Hires Executive Director!
We're thrilled to announce the hiring of our Executive Director! Erica Horn has accepted the position and will start April 23. Erica brings tremendous knowledge and energy to our program. For the past 10 years she has been at HERO House–a Clubhouse in Bellevue, WA which she launched and built, in collaboration with a strong board and community. Prior to that she was at Evergreen Clubhouse for five years, and has worked for 11 years on the  Clubhouse International faculty, accrediting Clubhouse programs across the globe.
Erica is highly regarded throughout the Clubhouse International community, having achieved accreditation for Hero House in record time, and for achieving financial sustainability even as other Clubhouses struggled during the financial downturn.  Erica grew up in the Bay Area and is enthusiastic about returning to her family and connections here. She is an exceptional leader and we are extremely fortunate to have her join the team.
Thank You Mills Peninsula
We received a grant from Sutter Health Mills Peninsula Health Services that will help us develop our information system to gather data, report outcomes, track progress and serve members.  We very much appreciate the support from our local hospital.  Thank you again Mills Peninsula!
California Clubhouse Gives Back

Juliana and  Ruth went to the first New Clubhouse Development Training held in northern California at Putnam Clubhouse in Concord.  They represented our Clubhouse, as a post-training success story, to two other Clubhouses that have formed working groups in Sacramento.  California Clubhouse did our training in April 2013 in Fort Wayne, Indiana
Clubhouse International Visits Us in San Mateo
Clubhouse International  leaders came in February to see California Clubhouse and talked to an impromptu  gathering about how  Clubhouses are succeeding worldwide. They had praise for our committed working group and our extensive achievements to date. Congratulations to all who have helped us get here.
Joel Corcoran (left), Executive Director of Clubhouse International (New York) and Jack Yatsko (right), Chief Operating Officer, Clubhouse International (Hawaii)

Board members introduce Joel and Jack to the California Clubhouse working group and supporters

Executive Director Search Started in January
If you're interested in this position, or know someone who might be, please have a look at the job description. We will have openings for a Program Director and Staff Generalist as well.
(Note: the ED search closed in March.)
Beyond Our First Hundred Days!
As you can see below, we've pushed hard through our first 100 days since moving into Palm Avenue and have much to show for the effort including office furniture and computers (both donated!), a consultant on-board who has years of Clubhouse experience, an active board, great community support, and last but far from least, both private and county funding.

See below what we accomplished in the first 100 days of being in our Palm Ave. location!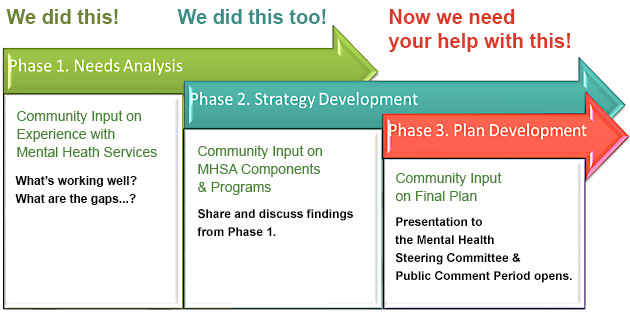 April – August, 2014
A busy 5 months – too busy to update the timeline, including getting our location and preparing for our first 100 days campaign above!